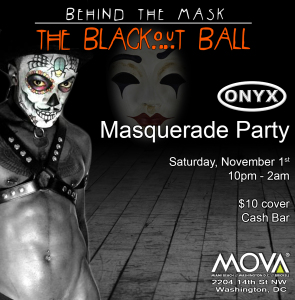 ONYX presents… The Blackout Ball!
Join the Men of ONYX and our friends and family from across the country as we celebrate our weekend Behind the Mask. It's a Halloween Masquerade Party as only ONYX can do it!
Bring your mask and let your FREAK FLAG FLY as you dance the night away to the tunes of DJ Theo Storm. There will be Strippers, Raffles, and Demos (OH MY!)
Saturday, November 1st
MOVA Lounge
2204 14th Street NW
Washington, DC
21 +, with a $10 cover and a cash bar.